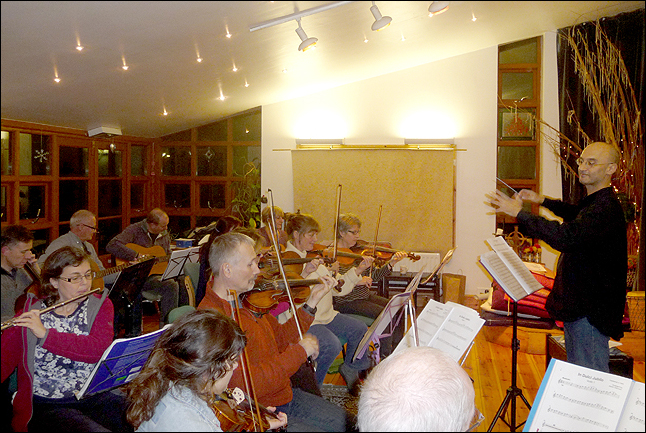 We are rough and folky. A regular place for rusty instrumentalists to meet and share the pleasure of making music together, the emphasis being on creating a relaxed, fun and sociable atmosphere.
Our main activity is our fortnightly rehearsal, although we occasionally get asked to do public performances.
"Gasworks Scratchy Folk Orchestra
has got me to play my flute again after almost giving up on it.

This is really making music,
and fun too."
Any acoustic instrument (within reason).
All abilities welcome.
There are no auditions, but a basic knowledge of sight-reading
would be useful.
Our repertoire comes from different folk traditions - for example we play Celtic and American traditional tunes, East-European wedding dances plus an arrangement of the Archers Theme tune!
Please contact me if you want to book a place in the orchestra
as places are limited.
Cost: £7.00/£8.00 per rehearsal
(you just pay for the rehearsals you attend).
What We Will Provide:
a regular time and place to meet
a web-site with scores for your instrument plus MP3 audio files
What We Expect From You:
To turn up at (most) rehearsals with:
your instrument
some basic (not necessarily brilliant) sight-reading skills
a music-stand
a copy of your score (which you can print out from the online archive)
I look forward to seeing you.
Martin Solomon.